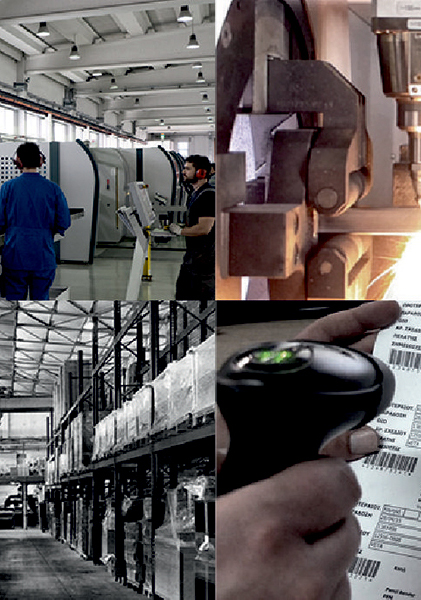 History
VETA S.A was established in 1967.
Initially, the company had its registered office in Metamorfosi, Attica, and was operating as a commercial enterprise in the field of
constructions, pipes and related metal fittings.
In 1976 the first flame cutting was installed and a new chapter in the history of the company opens with the processing of sheet metal and
the production of metal products according to clients' needs.
In 1984, eight years later, VETA S.A successfully corresponds for one more time to the needs of
Greek market regarding the cutting of large metal sheets as it has the biggest saw of 1000x3000x6000m.
In 1999 an area of 12.000m2 as the new plant in Industrial Area of Sindos in Thessaloniki, is inaugurated to become the first part of
an investment program aiming primarily at the satisfaction of the market of North Greece.
In 2000, the plant of Metamorfosi is transferred to new modern facilities in the industrial area of Acharnon in an area of
20.000 m2 while at the same time the first machine for cutting metal sheet out of the 14 laser cutting machines
of the company starts operating.
In 2003, the production activity of VETA S.A is certified by EN ISO9001:2000.
In 2007,the company establishes a welding department in its facilities.
In 2008, the company establishes a electrostatic painting department.
In 2009, Veta S.A expands its contractor services providing digital printing and packaging in an area of 1.500 m2.
In 2010, the company continues to improve its services and its productive capacities and installs new machinery
as well as a unit of electrostatic painting while operates the first of 4 robotic adhesive machines of the company.
In 2011, the company starts the production of cash desks and nowadays the Greek cash desks of VETA S.A have been installed in all chains of supermarkets
as well as in shops all over Greece and Balkans.
In 2012, Veta S.A is certified by ISO 14000 for environmental standard and OHSAS 18001 (health and safety) in order to correspond to the standards of
West Europe.
In 2014, the implementation of a new two-year investment plan 8,5 millions Euros begins , which includes large facilities in the industrial area of Acharnon
and gradual installation of machinery of advanced technology in Athens and Thessaloniki.
In 2015, after the success of cash desks, Veta S.A introduces a shelving systems for the safe and good presentation
of products in supermarkets, mini markets and retail stores.
In 2016 Veta S.A completes the investment program of high technology machines. Today the company has 51 cutting-edge CNC machines.
In 2019 New millions Euros investment, base VETA S.A. one of the leading metal manufacture production in NA Europe.